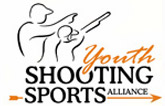 2023-2024 NATIONAL YOUTH SHOOTING SPORTS PROGRAM NEEDS ASSESSMENT PROPOSAL
NOTE:
Program entry in the
Youth Shooting Sports Program Directory
is required for all applicants to be considered for an equipment grant in this YSSA grant approval process. The Youth Shooting Sports Alliance (YSSA), in partnership with the Mule Deer Foundation, developed this online Directory featured on YSSA's website
www.youthshootingsa.com
. The Directory is county based and will serve as an excellent tool in recruiting new youth shooters to join the fun with your program's shooting sports activities. To enter your program in the Directory is easy. Simply click "Submit a New Program" on the right side of the Directory banner. Basic program and contact information is requested for prospective youth participants and their parents to review. You can also specify the shooting sports activities offered in your program. A second contact information block is provided for use by YSSA to verify the content to be displayed before it is approved for posting. Statewide shooting sports program leaders should click "All" for the listing of counties in each state while local club leaders can specify the appropriate county in the drop-down menu provided. Please note that independent cities are also identified in those states having such jurisdictions. Click "Submit" and your program will be listed after review.